Fourth Sunday of Advent, Year B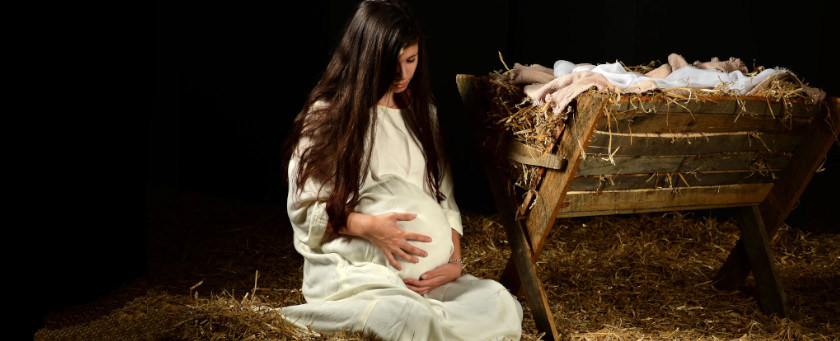 Readings:
2 Sm. 7:1-5, 8b-12, 14a, 16; Ps. 89; Rm. 16:25-27; Lk. 1:26-38

(Audio recorded live, 20 December 2020)
Today is the Fourth Sunday of Advent. Can you believe it? Time is flying. I hope everyone has been able to make the best of it. Our readings today speak to us of cause and effect. God promises King David that he will establish a house for him and raise up an heir to make his kingdom firm. Of this heir, God says, "I will be a father to him, and he shall be a son to me." Our psalm echoes this as the Lord promises: "I have sworn to David my servant: Forever will I confirm your posterity and establish your throne for all generations. He shall say of me, 'You are my father, my God, the Rock, my savior.'" St. Paul declares that what we have received according to the gospel and the proclamation of Jesus Christ is fulfilled in his name. And, just in case these revelations were not enough to prove that God is faithful to his promises, we have this beautiful passage from Luke's Gospel, the message from the angel Gabriel to Mary: "Therefore the child to be born will be called holy, the Son of God." Since Mary was betrothed to Joseph of the House of David, her child is at one and the same time heir of David and Son of God. What beautiful, mysterious revelation we have to ponder on this last Sunday before Christmas.
What might all of this mean? Well, did you notice how King David all of a sudden got into his head the idea of building a house for the Lord? David was one of the most successful military leaders in the region, and when the Lord had given him rest from his enemies, he began to ponder how it was that he could be living in such luxury while the Lord's dwelling was a simple tent. He must have thought to himself, surely the Lord should have a proper shrine as did all the other gods in the surrounding nations. And even though he consulted his prophet Nathan, the Lord had other plans for David. Through the prophet, the Lord tells David that such a dwelling is not for him to build. In fact, the dwelling has already been made. The Lord says, "I have been with you wherever you went…." That is why some scholars have interpreted the Tetragrammaton, the name of God, YHWH, as "I am the one who is with you." It would seem that David's understanding of God's dwelling was completely different than God's idea, that is, God dwells not in a tent or a building, but rather, God dwells with his people.
To gain a deeper appreciation for God's dwelling with his people, we need look no further than the Annunciation. As Mary encounters the angel of the Lord, she realizes that she has been chosen by God for a special purpose, that she has been created in a special way: full of grace. And though she ponders what it meant to be favored by God, she nevertheless engages the mission offered her by the angel. Upon giving the angel her fiat, her approval, her 'yes' to the Lord, Mary is overshadowed by the Holy Spirit and conceives the Only Begotten Son of God. Does this not describe for each of us how God dwells with his people? Does this not show how every person, touched by the Holy Spirit, becomes a dwelling for the Lord? Does this not show that a tent, or a building, or an altar, or a shrine, are secondary to the awesome presence of God's Spirit dwelling in his faithful? This is truly what we celebrate on Christmas, the birth of Emmanuel, the birth of the God who is with us.
God's dwelling is not limited by time or space. That is why the Church has been able to endure for 2,000 years. We have received the deposit of faith from countless generations who, each in their day, were all dwellings of the Lord, and because of their faith, have passed it on to us. We must never forget what has been handed on to us. To neglect our faith is to deny God's dwelling within us; to deny God's dwelling is to deny our humanity, for we were all fearfully, wonderfully made in the image and likeness of God. We cannot deny our Creator any more than we can deny our own reflection, our own shadow, our own breath.
It is up to us to hold on to the truth of our faith for the rest of our earthly lives until we meet the Creator face-to-face. We accomplish this by disciplining ourselves in the regular practice of our faith; we accomplish this by our reception of the sacraments; we accomplish this through our prayers for ourselves and one another.
The world is changing rapidly around us, as St. Paul says, "We know that all creation is groaning in labor pains even until now…" (Rm. 8:22). But, the faith remains the same. Our understanding of it and appreciation for it may change, but the faith itself, which is a gift from God, remains unchanging. We need only to embrace it more fully each day. And in so doing, we not only become more aware of God's will in our life, we become more aware of his presence, his dwelling with us.
And now, as we turn to the celebration of the Eucharist, the truest sign of God's presence among us, may the communion we share deepen our faith and draw us ever closer to the Lord, who made his dwelling among us through Mary, who makes his dwelling among us today.
---
Given during the COVID-19 pandemic.