Third Sunday of Advent, Year B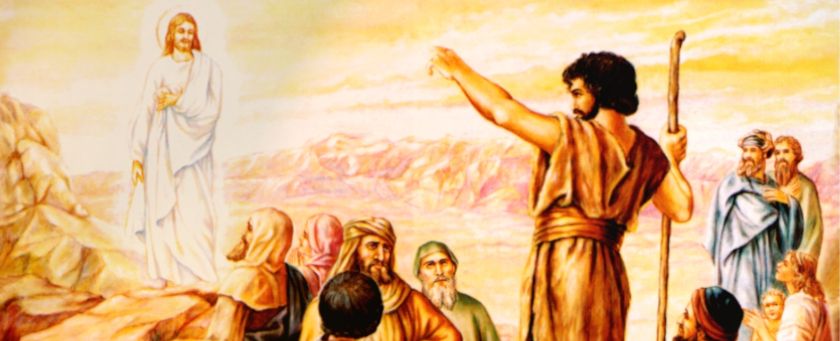 Readings:
Is. 61:1-2, 10-11; Lk. 1:46-54; 1 Thes. 5:16-24; Jn. 1:6-8, 19-28

(Audio recorded live, 13 December 2020)
A kindergarten class was asked to bring a picture of their favorite super hero for show-and-tell. The children all brought images of Iron Man, Batman, Wonder Woman, and others. One little boy brought a picture of Jesus, but upon seeing it another student exclaimed, "He's not a super hero! He's not even real!" But, the little boy responded, "Yes, he is real. And he made you." This five-year-old child had more wisdom in that kindergarten classroom than many adults in our world. In a certain sense, he was acting like a little prophet, pointing the way to Jesus. Today, on this Gaudete Sunday, we take a day to rejoice in the Lord, mindful of the redeeming action of his becoming one with us in his humanity, but also how he made us one with the Father through baptism.
Today's readings emphasize the idea of rejoicing in hope. This is so important these days, when so many hopes are being squashed due to the pandemic. We have concerns about the safety of visiting family and relatives for Christmas; we have concerns about loved ones who may be sick; we have concerns about keeping the lights on. None of us can escape these concerns, yet today, the Church bids us rejoice.
The prophet Isaiah speaks of a Jubilee Year, a time when broken hearts are mended, debts are forgiven, and prisoners are set free. He says, "The spirit of the Lord GOD is upon me, because the LORD has anointed me; he has sent me to bring glad tidings to the poor." Jesus proclaims these words himself to the people of Nazareth saying, "Today, these words are fulfilled in your hearing" (See Lk. 4:21). Is this not cause for rejoicing?
Mary, in her Magnificat, says "The Almighty has done great things for me, and holy is his name…." The Lord not only blessed Mary in her Immaculate Conception, He overshadowed her with the Holy Spirit and she conceived His only begotten Son. Our Psalm today was her rejoicing in hope of tremendous things to come.
St. Paul bids the Church rejoice always. Pray without ceasing. And to let the God of peace make you perfectly holy in spirit, soul, and body. In other words, our rejoicing in the Lord will lead to the peace we desire. How peaceful have we been, really? There's a difference between being silent and being peaceful. Many of us tend to bottle things in, keep quiet, try not to offend anyone, try to be politically correct, try not to get canceled. What kind of peace is that? Did Jesus bottle things in, or did he speak out? Did Jesus try not to offend anyone, or did he speak truth to power? Whenever we rejoice in the Lord, whenever we make it known that we are followers of Jesus, we tell the world that we stand with Christ.
This is cause for rejoicing, for as St. Peter says, we may have to endure many trials, but this is so that our faith may be refined like gold (See 1 Pt. 1:3-9). The refining process is not easy. It involves heating the metal multiple times to get rid of impurities. Advent is a time for us to refine our faith, to purify our hearts, and to grow closer to the Lord. And part of that process is sharing our faith with joy.
So, as we spend this day rejoicing in the Lord, let us share our faith like the little boy did with his picture of his favorite super hero, Jesus. Perhaps our faith may bring others peace in these difficult times; perhaps the faith of others may bring us peace. And may our sharing at the Lord's table be an enduring sign of his presence with us today and everyday we rejoice in his Name.
---
Given during the COVID-19 pandemic.