Thirty-First Sunday in Ordinary Time, Year B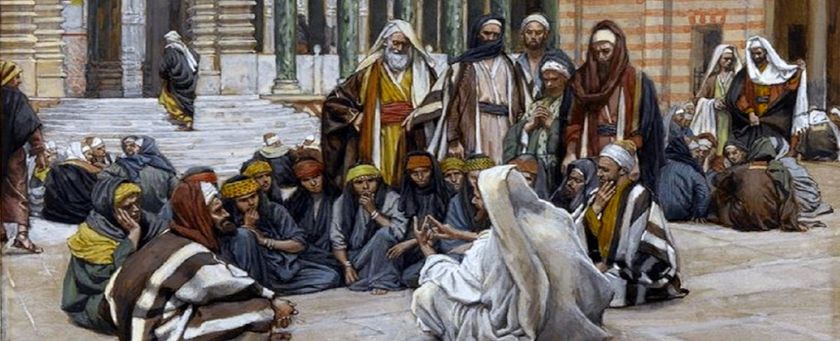 (Audio recorded live, 31 October 2021)
Readings:
Dt. 6:2-6; Ps. 18; Heb. 7:23-28; Mk. 12:28b-34
Today, the letter to the Hebrews helps to establish that Jesus is our High Priest, "holy, innocent, undefiled, separated from sinners, higher than the heavens." He was not chosen from among men, but sent by the Father to take upon himself our human nature. Because he came from eternity, he has a priesthood that precedes any other, like that of Melchizedek. The Levitical priesthood, therefore, is a later adaptation, born out of the Exodus and entrusted to keep the Law of Moses until the Messiah should arrive.
The Law of Moses included the Shema, which we heard in our first reading: "Hear, O Israel! The LORD is our God, the LORD alone!Therefore, you shall love the LORD, your God, with all your heart, and with all your soul, and with all your strength." This prayer is prayed every Sunday during Night Prayer. We are always mindful of our disposition to the Creator, who not only gives us life, but lifts us up through his Son.
In the Gospel, one of the Scribes came to Jesus and asked him, "Which is the first of all the commandments?" Scribes were scholars of the Law, so he was not asking this question for himself, but rather to test Jesus. Jesus' answer was the shema, but then he offers a second command, which is like the first: "You shall love your neighbor as yourself." Upon hearing Jesus' knowledge of the Scriptures and the Law, the scribe had to concede that Jesus' answer was superior to all burnt offerings and sacrifices. To completely love God and your neighbor as yourself is to completely give yourself over for the sake of others, without neglecting your needs. It is a balancing act that requires discipline, mindfulness, and dedication. Above all, it requires God. As St. Augustine said, "Without God, I cannot. Without me, God will not."
So, as we prepare to receive the Most Blessed Sacrament today, let us be mindful of our relationship to the Father. How is our prayer life? Are we giving everything over to God, or are we holding on to more than we can carry? Are we mindful of our love for others, or are we more interested in what others can do for us? All of this requires balance. May the communion we share help us find that balance today.
---