Solemnity of Our Lord Jesus Christ, King of the Universe, Year C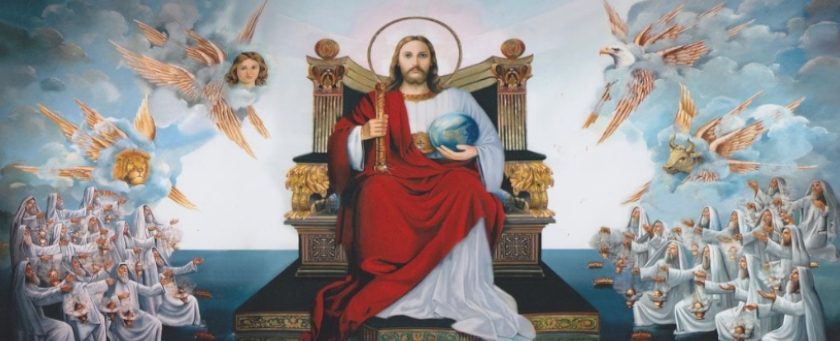 Readings:
2 Sm. 5:1-3; Ps. 122; Col. 12:12-20; Lk. 23: 35-43

(Audio recorded live, 20 November 2022)
Today is the Solemnity of Our Lord Jesus Christ, King of the Universe. This Holy Day was established by Pope Pius XI in 1925 as an antidote to secularism. Secularism is a way of life which leaves God out of man's thinking and living, organizing life as if God did not exist. This feast proclaims without reservation that Christ is King over all people, families, society, governments, and nations. It would seem Pope Pius XI was indeed prophetic in promulgating such a feast during the Roaring 20's, when bankers, mobsters, and politicians, were placing their trust not in Almighty God, but rather, in money. And not even money, but rather, currency, which by the mid-1930's became the vehicle of central bank monetary control and manipulation, which is rampant today. As St. Paul says in his first Letter to Timothy: "For the love of money is the root of all evils, and some people in their desire for it have strayed from the faith and have pierced themselves with many pains" (1 Tm. 6:10).
On this Solemnity of Christ the King, we do well to take a moment to ponder its meaning. Our readings today focus us on the root of Jesus' earthly kingship. In the second Book of Samuel, we hear of the anointing of David as King. This is the first of two public anointings of David that establish him as the King of Israel. In the Gospel of Matthew, we read the genealogy of Jesus, which clearly establishes him to be in the line of David the King, and therefore his heir. This is establishes the earthly authority of Jesus as King of the Jews. In today's Gospel, we hear how there was an inscription above Jesus on the cross that read, "This is the king of the Jews." And while Pontius Pilot wrote this to mock Jesus, it was nevertheless a temporal sign of Christ's kingship and authority on earth. But, it was St. Paul who gives us the most eloquent statement about Christ in his letter to the Colossians, namely, "[Jesus] is the image of the invisible God, the firstborn of all creation….He is before all things, and in him all things hold together….For in him all the fullness was pleased to dwell, and through him to reconcile all things for him[self]…." Jesus is far greater than an earthly king; Jesus, the second Person of the Blessed Trinity, is King of the Universe.
Such statements about our Blessed Lord are not to be taken lightly. These are the very tenets of our faith. We even hear part of this passage in our Creed, when we say: "I believe in one God, the Father almighty, maker of heaven and earth, of all things visible and invisible. I believe in one Lord Jesus Christ…through him all things were made…For our sake he was crucified under Pontius Pilate…He will come again in glory to judge the living and the dead and his kingdom will have no end."
The scourge of secularism has wreaked havoc on society throughout the world. But, true believers know that Christ is King, and with Christ as their foundation, their cornerstone, their fortress, they know that Christ must always come first. Every decision, therefore, ought to be made with respect to the King. But, secularism has played games by deceiving people that they no longer need God. Secularism tells people they are their own boss, they have complete control over their lives, that they should give in to their every passion or desire. But Christ the King, on the other hand, demands more of us. The King demands that we put God first in our life, that we be faithful subjects, that we remain close to him, to keep his commandments. As St. Peter says, "For this very reason, make every effort to supplement your faith with virtue, virtue with knowledge, knowledge with self-control, self-control with endurance, endurance with devotion, devotion with mutual affection, mutual affection with love. If these are yours and increase in abundance, they will keep you from being idle or unfruitful in the knowledge of our Lord Jesus Christ" (2 Pt. 1:5-8). Secularism does not want us to achieve this level of spiritual enlightenment. It instead clouds our judgment, delivers us into vice, plunges us into ignorance, and keeps us from attaining life's goal, which is eternal blessedness with God.
Eternal blessedness, or happiness, is the most noble of goals. St. Thomas Aquinas once said, "Eternal life consists of the joyous community of all the blessed, a community of supreme delight, since everyone will share all that is good with all the blessed. Everyone will love everyone else as himself, and therefore will rejoice in another's good as in his own. So it follows that the happiness and joy of each grows in proportion to the joy of all" (Opuscula theologica 2, Taurini 1954, pp. 216-7). Such is the life of the subjects of Our Lord Jesus Christ, King of the Universe. All else find themselves wallowing in despair because the secular has all but drained the holiness from them.
What about the people of our day? Our society has grown increasingly secularistic. Consumerism and materialism are touted as the only means of achieving happiness. St. James says, "What good is it, my brothers, if someone says he has faith but does not have works? Can that faith save him? If a brother or sister has nothing to wear and has no food for the day, and one of you says to them, 'Go in peace, keep warm, and eat well,' but you do not give them the necessities of the body, what good is it?" (Jas. 2:14-16). Are people falling into this level of apathy towards one another? Have they grown numb to the love that ought to flow freely? The Church's answer to this problem is and will forever be Jesus Christ.
This Solemnity marks the culmination of our liturgical year. We owe our Christian lives to Jesus Christ our King. It was he who humbled himself to become one with us; it was he who showed us the way to the Father; it was he who sacrificed himself to set us free; and it is he who continues to reign from eternity where he sits at the right hand of the Father. He will come again in glory to judge the living and the dead. And so, may we be found worthy to be among those living. And let us pray for those who have been deceived by a secular world that they may repent and return to Our Lord Jesus Christ, King of the Universe.
---